Hip Fracture Surgery: Preparation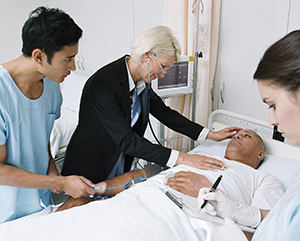 After a hip fracture occurs, you will likely be taken to a hospital emergency room (ER). While in the ER, many tests will be done, including X-rays and blood tests. The nursing staff will monitor your blood pressure, heart rate, and breathing. You will be given pain medicine. If you are alone, a staff member will try to contact your family or a friend so they can be with you.
What happens next?
Your surgery, if needed, will be done once a surgical team can be readied. This often takes less than 48 hours. In the meantime, nurses will try to keep you comfortable. You'll also have tests to ensure you're ready for surgery. Follow any directions you are given for taking medicines or for not eating or drinking before surgery. Your surgery may be delayed pending certain tests or to let the effects of medicines, such as blood thinners, wear off. Your family or friends may be able to visit you during this time.
Your healthcare team
A team of healthcare providers will be with you during your hospital stay.  
Orthopedic surgeons repair the hip and guide your treatment.

Nurses provide daily care and help you manage pain.

Physical therapists (PTs) teach you exercises that build strength and aid recovery. They will also teach you how to get around safely while you heal.

Occupational therapists (OTs) teach you how to do daily activities. This helps prepare you to go home.

Case managers or social workers help prepare insurance and discharge paperwork.
Risks and complications of hip fracture surgery
Any surgery has risks. The possible risks and complications of this surgery include:
Infection

Dislocation of the joint

Blood clots

Failure of the fracture to heal

Reaction to the anesthesia

Pneumonia

Damage to nearby blood vessels, bones, or nerves

Limp

Pain

Leg length discrepancy