Hip Arthroscopy: Before Surgery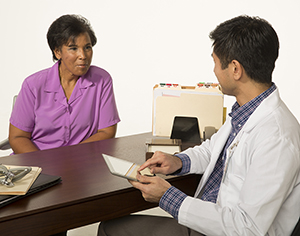 Your surgeon may have recommended hip arthroscopy. This procedure may ease much or all of your hip pain. In fact, you may be moving around more easily soon after surgery. But depending on your original hip problem, it can take up to several months for you to fully heal. And you'll likely need to commit to a prescribed rehabilitation (rehab) plan.
Before your procedure
You will be examined and have certain tests. These help make sure you are healthy enough for surgery. Then, you may meet with your surgeon. At this meeting:
Your surgeon may tell you more about the surgery and its risks.

You will be told what not to eat or drink before surgery.

You should tell your surgeon what medicines you take. This includes all prescription medicines, over-the-counter medicines, supplements, and herbal remedies. Ask if you should stop taking any of them.

You may be given pain medicine to take after the surgery.
Risks and complications
Although safe, hip arthroscopy has certain risks and possible problems. These are:
Nerve or blood vessel injury

Infection

Bleeding

Blood clots

Continued or greater hip pain

Damage to articular cartilage or labrum

Progression of arthritis

Need for more surgery
Before surgery
Use this list to remind you what to do before your surgery:
Tell your surgeon what medicines, supplements, or herbal remedies you take. Ask if you should stop taking any of them before surgery.

If possible, fill any prescriptions for post-op pain relievers before you have the procedure.

Check what time you should be at the hospital or surgery center. Arrange for an adult family member or friend to give you a ride to and from surgery.

Follow any directions you are given for not eating or drinking before surgery.