Hip Arthroscopy: After Surgery
You will likely go home the day of your surgery. Before you go home, you will be told how to care for your hip as it heals. You'll probably have a follow-up appointment 1 to 2 weeks after surgery. At this visit, sutures may be removed. Your surgeon may also prescribe physical therapy.
In the recovery room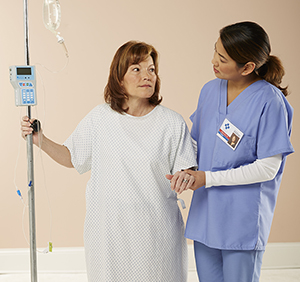 You will be in the recovery room for a short time after your procedure. While you're there, hospital staff will help you get up and walking soon after your procedure. Your surgeon may limit your amount of weight-bearing activity after surgery. You may also need a brace, crutches, or both. 
Going home
You will likely be given crutches or a walker to bring home with you and be told how long to use them. You will also be told how much you can walk or stand on the operated leg. You may be given a brace to wear. You may also be told to wear compression stockings for a few days after surgery to help prevent blood clots.
Call 911
Call 911 right away if you have any of the following:
Chest pain

Shortness of breath
When to call your healthcare provider 
Call your surgeon or healthcare provider right away if you have any of the following:
Hip pain gets worse

Pain or swelling in your calf or leg not related to your incision

Tenderness or redness in your calf

Fever of 100.4°F (38°C) or higher, or as directed by your healthcare provider

Shaking chills

Swelling or redness at the incision site gets worse

Fluid draining from the incision
After surgery
Use this list to remind you of what to do after surgery.
Ask your healthcare provider when and where your dressing should be changed.

Take care of your incisions as directed. You can usually begin bathing again in 24 hours.

Use ice as instructed to reduce swelling and pain.

If you were given crutches or a walker, use as instructed.

Ask when you should see your surgeon for a follow-up visit.                                 

Do rehab exercises as prescribed.

Ask your surgeon what activities you should avoid.