Herb-Crusted Tilapia for Two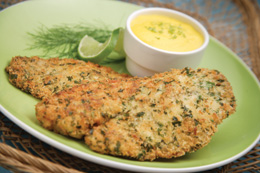 Ingredients:
Two tilapia fillets (about 3/4 pound)

1 tablespoon flour

1 large egg, plus 1 tablespoon water

2 tablespoons mixed herbs

1/2 cup panko (Japanese-style breadcrumbs)

1 tablespoon olive oil
Directions
Sprinkle flour on waxed paper. Rub fillets with flour. Beat egg with water in a shallow dish. On waxed paper, mix panko with herbs. Dip floured fillets in egg wash and roll in herb-panko mixture, patting it gently so that it sticks to the fish. Heat oil in a nonstick frying pan to medium high. Saute fish about three minutes. Turn once and cook for another three minutes. Serve immediately.
Serves 2
Each serving contains about 317 calories, 39 g protein, 11 g fat (31 percent calories from fat), 148 mg cholesterol, 15 g carbohydrates, 1.5 g fiber, and 132 mg sodium.