Having a Trabeculectomy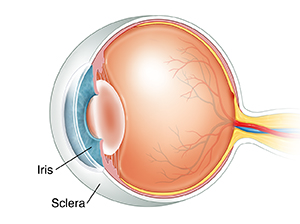 Trabeculectomy is a type of eye surgery done in the front part of the eye. It's done to treat glaucoma by draining some fluid from the eye. If you have glaucoma, fluid can drain too slowly. This can cause the pressure in your eye to increase. This can then damage the optic nerve. This surgery helps to lower pressure inside the eye.
What to tell your healthcare provider
Before your surgery, tell your healthcare provider:
What medicines you take. This includes over-the-counter medicines such as ibuprofen. It also includes vitamins, herbs, and other supplements. You may need to stop taking some medicines before the procedure, such as blood thinners and aspirin.

If you smoke. You may need to stop before your surgery. Smoking can delay healing. Talk with your healthcare provider if you need help to stop smoking.

If you've had recent changes in your health. This includes an infection or fever.

If you are sensitive or allergic to anything. This includes medicines, latex, tape, and anesthetic medicines.

If you are pregnant or think you may be pregnant.
Getting ready for your surgery
Make sure to:
Ask a family member or friend to take you home from the hospital. You won't be able to drive.

Make plans for some help at home while you recover

Follow all other instructions from your healthcare provider

Read the consent form and ask questions if something is not clear

Follow any directions you are given for not eating or drinking before surgery.  
Tests before your surgery
Before your surgery, you may have tests to look at your eye. These may include:
Dilated eye exam

Tonometry, to measure the pressure inside the eye

Pachymetry, to measure the thickness of the cornea
On the day of your surgery
Talk with your doctor about what to expect during your surgery. The details of the surgery may differ somewhat. A doctor specially trained in eye surgery (ophthalmologist) will likely do the procedure. In general, you can expect the following:
You may have general anesthesia. This will cause you to sleep through the surgery. Or you may be awake during the surgery. You will receive a medicine to help you relax. You also may be given anesthetic eye drops and injections. This is to make sure you don't feel anything.

Antifibrotic medicine may be put on your eye. This medicine can help reduce scarring and other problems.

Your surgeon may rotate the eye and secure it in place with a single stitch.

The surgeon will make a cut (incision) along the conjunctiva on the side of your eye. He or she will then make an incision partway through your sclera, making a flap. The incision will go all the way into the area that contains the fluid. A small piece of tissue will be removed. The surgeon will then make a small hole in your iris. This will let the fluid drain.

Your surgeon will then close the area and remove the stitch that held your eye in place.

The surgeon may put antibiotics in your eye. This is to help prevent infection.

Your eye will be covered and taped shut.
After your surgery
You may be able to go home the same day. Have someone drive you home.
Recovering at home
Follow all of your doctor's instructions about caring for your eye. Your eye may be a little sore after the procedure. You can take over-the-counter pain medicine as approved by your healthcare provider. You may need to take antibiotics to help prevent infection. You may also need other medicines, such as steroids or antifibrotic medicine. You may need to keep your eye covered for a while after surgery. Ask your doctor if you should not do certain activities while you recover.
Follow-up care
You will need close follow-up with your doctor to see if how well the surgery worked. You may have an appointment the day after the surgery. Your doctor will make sure the new opening is working well and that fluid is draining.
You will need continued follow-up care to check your progress. You may need to have stitches in your eye removed in a follow-up appointment a few weeks after your surgery.
When to call your healthcare provider
Call your healthcare provider right away if you have any of the below:
Bleeding

Fever of 100.4°F (38.0°C) or higher, or as directed by your provider

Vision that gets worse

Pain or swelling in your eye that gets worse