Hand and Wrist Exercises: Forearm Roll
This exercise is designed to stretch and strengthen your hands and wrists. Before beginning, read through all the instructions. While exercising, breathe normally. If you feel any pain, stop the exercise. If pain persists, inform your healthcare provider.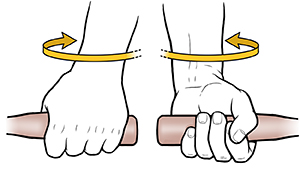 Grasp a hammer or hand weight in your _____ hand. Place your wrist, palm down, over the end of your knee or on the edge of a table.

Keeping your forearm against your thigh or a table, rotate your hand until your palm is up. Hold for _____ seconds. Then return to starting position.

Repeat _____ times. Do _____ sets a day.