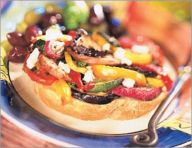 Greek Roasted-Vegetable Sandwich
Ingredients:
1 tablespoon olive oil

1 eggplant (about a pound)

2 small zucchini

2 medium red potatoes

1 large, sweet onion (Vidalia, Spanish, or red)

1 red or yellow bell pepper

4 plum tomatoes

4 tablespoons feta cheese (about 4 ounces)

Fresh oregano to taste

4 thick slices of a dense, crusty bread
Directions
Preheat oven to 450 degrees. Wash and cut eggplant, zucchini, potatoes, and onion into 1/2-inch-thick rounds. Slice pepper into 1/2-inch strips. Halve the tomatoes. Lightly brush olive oil on cookie sheet and arrange vegetables in one layer. Sprinkle oregano on vegetables. Bake 10 minutes. Turn vegetables and bake 10 minutes more. Potatoes and pepper slices may need more time. Let cool slightly for easier handling.
Create four open-faced sandwiches by layering vegetables with a little feta cheese. Return to warm oven to melt cheese and toast bread, about five minutes.
Serves 4
Each serving contains about 430 calories, 71 g carbohydrates, 15 g protein, 10 g fat, 775 mg sodium, and 13 g fiber.