Fitting Your Cane
Proper fitting helps you use your cane safely and effectively. When fitting the cane, stand up straight and wear the shoes you will normally use to walk. If your cane doesn't feel right, ask your healthcare provider, nurse, or physical therapist (PT) to check the fit.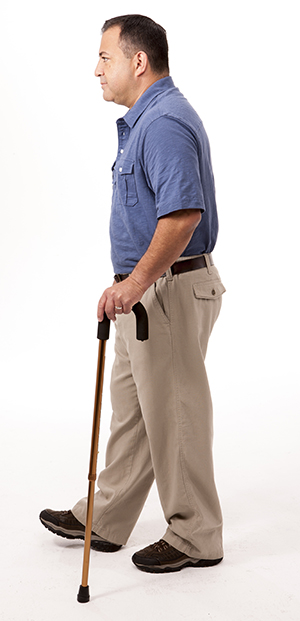 To check fit: Place the tip 2 inches in front and 6 inches to the side.
Getting to know your cane
A cane is often used after crutches or a walker. It helps with balance as you regain strength and mobility. Many different kinds of canes are available. Some have only 1 tip. Others have 4 tips to aid balance. Hold the cane on the unaffected (stronger or uninjured) side unless told otherwise.
The cane fits if:
Your wrist is even with the handgrip when your arms hang at your sides.

Your arm bends slightly at the elbow when you hold the handgrip.
Press the buttons to lengthen or shorten an adjustable metal cane. A wooden cane must be cut to the right height.
Precautions
The cane should have nonskid rubber tip(s) to prevent slipping. Change tip(s) that look worn.

Keep the cane away from your feet so you don't trip.