Exercises for Shoulder Flexibility: Back Scratch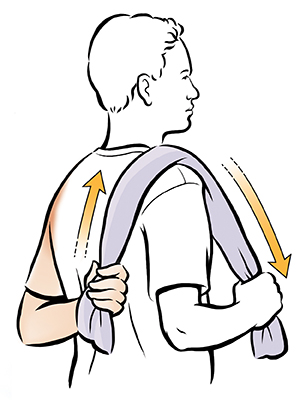 Improving your flexibility can reduce pain. Stretching exercises also can help increase your range of pain-free motion. Breathe normally when you exercise. Try to use smooth, fluid movements. Never force a stretch.
Note: Follow any special instructions you are given. If you feel pain, stop the exercise. If the pain continues after stopping, call your healthcare provider.
Stand straight, placing the back of your hand on the side you want to stretch flat against your lower back.

Throw one end of a towel over your shoulder. Grab it behind your back with your other hand.

Pull down gently on the towel with your front arm. Let your back arm slide up as high as is comfortable. You'll feel a stretch in your shoulder. Hold the stretch for a few seconds.

Repeat 3 to 5 times. Build up to holding each stretch for 30 to 60 seconds.
For your safety, check with your healthcare provider before starting an exercise program.