Enlightened Crab Cakes
?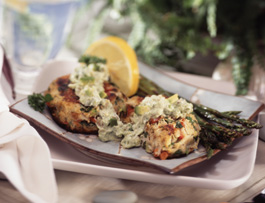 Ingredients
1 pound crabmeat

2 egg whites

1/3 cup finely chopped red bell pepper

1/3 cup finely chopped green onions (scallions)

1/3 cup chopped fresh parsley

3 tablespoons bread crumbs
Directions
Shred crabmeat. Mix with all other ingredients. Form into eight patties. Refrigerate for an hour. Spray a nonstick pan with cooking spray or an olive oil mister. Heat to medium high and carefully place crab cakes in pan. Let cook for five minutes undisturbed so crust forms. Turn carefully and cook for another five minutes. Serve with a swirl of avocado sauce.
Serves four
Each serving of two crab cakes contains about 148 calories, 26 g protein, 2 g fat, 102 mg cholesterol, 6 g carbohydrates, 1 g fiber, and 446 mg sodium.
Avocado Sauce
Ingredients
1/2 cup avocado, mashed

1/2 cup reduced-fat sour cream

1 tablespoon fresh lemon juice
Directions
Mix all ingredients and refrigerate until ready to serve.
Serves four
Each serving contains about 88 calories, 1 g protein, 8 g fat, 12 mg cholesterol, 4 g carbohydrates, 2 g fiber, and 15 mg sodium.