Eating Healthy on the Run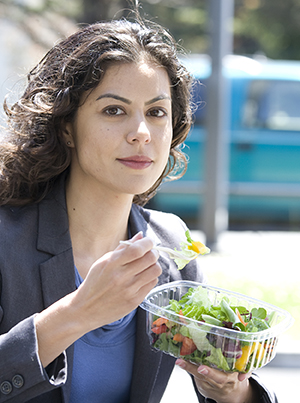 Need to eat on the run? This often means grabbing "junk" or fast food full of fat, salt, sugar, and cholesterol. But being in a rush doesn't mean that you can't eat healthy.
"Fast" food made healthy
Try these ways to get good nutrition, fast.
Go to a grocery or convenience market instead of a fast-food restaurant. Look for choices like sandwiches, yogurt, fresh fruit, and juices.

Buy precut, prepackaged fresh or frozen fruits and vegetables. You can use them for a snack, salad, smoothie, or stir-fry.

Microwave a frozen dinner that has less than 15 grams (g) of fat and less than 800 milligrams (mg) of sodium. Complete the meal with a whole-grain roll, vegetables, and fresh fruit.

If you must have fast food, consider your options. Go for veggie burgers, broiled and skinless chicken breast sandwiches, or dinner salads with low-fat dressing. Avoid large (super-sized) portions.

Blot the extra oil from food with a napkin before you eat it.

Instead of french fries, choose a baked potato with salsa.
Tip
Fast-food restaurants often have printed nutrition information available. Ask for this information and look up your favorite items before you order.