Do You Need a Daily Vitamin Supplement?
Most Americans don't get enough vitamins and minerals in their daily diet. In fact, less than 5 percent of Americans follow all of the recommendations in the USDA's Dietary Guidelines for Americans. It's small wonder, then, that one in three adults takes a multivitamin.
But dietitians say it's better to get all of your vitamins, minerals, protein, fiber, and other nutrients from food, if possible. That's because foods such as vegetables and fruits have benefits that a pill can't offer. They include fiber, phytochemicals (plant chemicals), and a balance of nutrients and disease-fighting antioxidants. Also, unless you have certain diseases, it's difficult to hurt yourself by absorbing too many vitamins from food. Taking too much supplemental iron or vitamin A, though, can be toxic—that's an important reason to check with your doctor before taking any supplements.
Even if you're trying to control calories, you can choose from these nutrient-dense foods that will help you meet your daily requirements for nutrition:
Fruits

Vegetables

Whole grains

Low-fat dairy

Seafood

Eggs

Low-fat meat and poultry

Beans
You can learn more about the basic details of your daily nutritional needs from the government's Dietary Guidelines for Americans 2010 (www.choosemyplate.gov). Exact nutrition needs vary by age and gender. So when you're trying to figure out if you need a supplement, you first need to know how much of a given nutrient you need, as well as how much you're getting from your diet. You can visit the Office of Dietary Supplements (ods.od.nih.gov) to determine how much of each nutrient you should be getting for your age and gender.
You can figure out whether you are taking in the right amount of needed nutrients each day in several ways:
Find out which nutrients are in the foods you already eat. Add up portions through the day to find out how much of any given nutrient you are eating. Many online resources can help you find out what's in each serving if the food item does not have a nutrition label.

Blood tests. In some instances, you might need a blood test to find out if your body has enough of key nutrients like iron and vitamin D.
Why you might need a supplement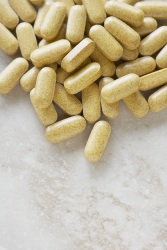 Daily vitamin and mineral supplements are an option for people who don't get enough essential nutrients through the foods they eat. Not getting enough nutrients can happen for a variety of reasons:
You skip meals. Skipping meals won't affect your nutrition if, over the course of each day, you get enough calories and nutrients to meet your daily requirements. The amount you need varies with your age, gender, weight, and how active you are. Visit ChooseMyPlate.gov to develop a personalized plan that will tell you how many servings of different types of foods to eat at your calorie level. You may also need a daily multivitamin supplement.

You eat few fruits, vegetables, and whole grains. The USDA guidelines emphasize the importance of fruits, vegetables, and whole grains to meet nutritional needs, as well as fiber requirements. If you are low on these food groups, you should probably take a multivitamin, but also consider improving your diet.

You're on a low-calorie diet. You might not be getting enough nutrients if you're severely restricting calories. Make sure that the foods you do eat are nutrient-dense. Most nutrient-dense foods, such as fruits and vegetables, are also lower in calories per serving than other foods. You might also want to take a multivitamin to supplement across the board.

You're a vegetarian. Generally, vegetarians eat more fruits, vegetables, and whole grains and have lower-fat diets. But you may be missing out on calcium, especially if you also avoid dairy products. If you're between 19 and 50, you should get at least 1,000 mg of calcium from green leafy vegetables and other foods and 600 IUs of vitamin D daily, or consider taking supplements to make up the deficiency. Women older than 50 and men older than 70 should get at least 1,200 mg of calcium daily, and both men and women older than 70 should get 800 IUs of vitamin D every day. Vegans, who give up all animal products including milk and eggs, may also need vitamin B12 supplements—2.4 mcg for adults, 2.6 mcg for pregnant women, and 2.8 mcg for nursing mothers.

You can't drink milk. Even though low-fat dairy is a cornerstone of nutrition recommendations, drinking milk is difficult for people with lactose intolerance. If you can't (or just don't) drink milk, you can find other dietary sources of calcium and vitamin D, such as yogurt, cheese, non-dairy "milks", calcium-fortified orange juice or tofu, and dark, leafy green vegetables. You might also consider a calcium and vitamin D supplement as outlined above if you're falling short of your needs.

You get limited exposure to sunlight, wear long robes and head coverings for religious reasons, or are dark-skinned. The body needs sunlight to develop vitamin D on its own, and people who have limited sun exposure or who are dark-skinned are less likely to have sufficient vitamin D levels. You can correct this imbalance by getting your recommended daily allowance of vitamin D through food or vitamin D supplements.

You're pregnant. During pregnancy, your body has increased nutritional needs. Pregnant women often need to get additional folic acid, iron, and calcium; folic acid, in particular, helps prevent devastating neural tube birth defects. Take a prenatal vitamin before you get pregnant and during your pregnancy to ensure that you and your baby get enough of the nutrients you both need; it should contain at least 600 mcg of folic acid.

You've had weight-loss surgery. Changes in the intestinal tract from weight-loss surgery make it virtually impossible to absorb sufficient proteins, vitamins, and minerals from food. You will need to take nutritional supplements every day for the rest of your life; these may include a multivitamin, special versions of vitamins A, D, E, and K, and supplemental iron and calcium. Check with your doctor to see which supplements you should be taking.

You have new nutrition needs. This can happen at different stages of life. For instance, women have a greater need for calcium and vitamin D after menopause.
The decision to take a multivitamin is highly individual. Your need for supplements depends on your diet, as well as any health conditions you have that increase the demand for certain nutrients or affect their absorption. Check with your doctor if you have any concerns.