Diabetes: Living Your Life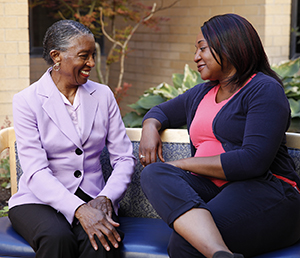 Having diabetes may mean changes at work and in your social life. But these changes need not keep you from doing well at work and enjoying your free time.
Family and friends
Your family and friends may have questions about diabetes. They may have a hard time understanding why you need to make changes in your life. Urge them to learn about diabetes with you. Spend time with friends who support you in taking good care of yourself.
Special occasions
Parties and holidays often mean more or different food and drink. You can still enjoy these events:
At parties, focus on enjoying music, dancing, or talking to friends.

Bring a snack or dish that works well for you. The other guests might appreciate low-calorie versions of their favorite foods. 

Before the next holiday, learn how to fit traditional foods into your meal plan.

Religious holidays may mean fasting or other changes in the way you eat. Talk to your healthcare provider, your dietitian, and your clergy about how you can observe holidays safely. 
Work
Lunch meetings, shift changes, or business travel may affect diabetes management.
Make diabetes a priority. If your work schedule changes often or you find it hard to manage your daily tasks, talk to your healthcare provider and your employer.

You may need to make special arrangements to do your daily tasks, such as checking your blood sugar.

As long as you can do your job safely, your employer can't discriminate against you because of your health.
Tell your healthcare provider if you're feeling helpless or hopeless, or are having trouble sleeping or eating. These are symptoms of depression, a serious but treatable problem.