Diabetes and Your Child: Tests and Vaccines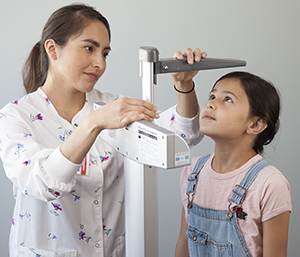 Taking care of your child's diabetes every day helps keep him or her healthy. It also lowers the risk of health problems later in life. But most children with diabetes also need to see their healthcare provider for checkups at least 4 times a year. The healthcare provider will need to do some tests. These tests help you decide if your child's treatment plan is working. The healthcare provider will also keep your child up to date with needed vaccines (shots).
Tests
These are the most common tests that children with diabetes need. Unless you are told otherwise, have these tests done at least as often as stated below:
Height and weight (every visit). Monitoring your child's growth tells you if your child's overall health is good.

Blood pressure (every visit). Blood pressure checks are used to monitor the health of your child's heart and blood vessels.

A1C (every 3 months). This test measures your child's average blood sugar level over a period of several months.

Urine albumin and albumin to creatinine ratio (ACR) tests (once a year). This test shows if your child's kidneys are working properly.

Lipids (every 1 to 2 years). This test looks at blood lipid (fat) levels to check blood vessel health.

Thyroid function (once a year). This test checks the level of your child's thyroid hormone, which helps with growth.

Celiac disease (once a year, if needed). This test checks if your child's digestive system is working properly.

Dilated eye exam (at first, 5 years after diagnosis, although your child's healthcare provider might recommend earlier or more frequent testing). Eye exams check your child for retinopathy (damage to the blood vessels in the eyes).

Feet (every visit). Exam of the feet for sores.
Vaccines
Your child should get the following vaccines, in addition to the recommended routine childhood vaccines, at least as often as stated below:
Influenza (or flu shot, once a year). Having the flu can make it harder to keep your child's blood sugar levels healthy.

Pneumonia (at least once, then as needed). Pneumonia can be a serious problem for children with diabetes. Ask your child's healthcare provider how often this vaccine is needed.
Tooth and gum care
Your child should also see a dentist at least twice a year. This is because high blood sugar can damage your child's teeth and gums over time. Poor dental hygiene can also raise blood sugar. Be sure to tell anyone who works on your child's teeth that he or she has diabetes. And have your child brush and floss his or her teeth at least twice a day.
Resources
For more information about diabetes, visit these websites:
American Diabetes Association www.diabetes.org

Children with Diabetes www.childrenwithdiabetes.com

Juvenile Diabetes Research Foundation www.jdrf.org

American Association of Diabetes Educators www.aadenet.org

American Association of Clinical Endocrinologists www.aace.com

National Diabetes Information Clearinghouse www.diabetes.niddk.nih.gov
Note: This sheet does not give all the information you need to care for your child with diabetes. Ask your child's healthcare provider for more information.