Depression and Spinal Cord Injury (SCI)
When facing the challenges of an SCI, it is not uncommon to feel discouraged, sad, or down at times. If these feelings are severe, persistent, or cause loss of hope, they may be symptoms of depression. Depression is a mood disorder. It is caused by certain chemical changes in the brain. Anyone can have it, though it tends to run in families. Depression can be triggered by many factors, including the challenges of a physical injury. People with SCI have a higher rate of depression. If you think that you might be depressed, know that this problem can be treated. This sheet tells you more about how to recognize the symptoms of depression and what can be done to help relieve them.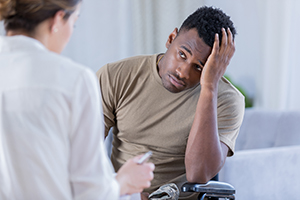 Symptoms of depression
People who are depressed often have 1 or more of these 3 symptoms:
Feeling sad, guilty, worthless, or hopeless most of the time

Losing interest in hobbies and activities

Withdrawing from family and friends
In addition, a depressed person may also:
Feel tired all of the time or low in energy

Have trouble sleeping or sleep more than usual

Lose interest in eating or eat too much

Turn to alcohol or drugs to feel better

Think about suicide or death

Neglect specific care measures needed after SCI
If you have any of these symptoms, let your healthcare provider know right away. Help is available.
Treatments for depression
When a person is depressed, they often feel like nothing will ever make it better. But depression can be successfully treated. Medicines and counseling (talk therapy) have helped many people. Medicines act on the brain chemicals that affect moods and feelings. Counseling involves talking about feelings and learning ways to change thought patterns. There are many types of counseling for depression. Some people meet one-on-one with a therapist. Others prefer a group setting. Often, a combination of medicines and counseling is used. A mental health professional can help determine which treatment options might work best for you.
Preventing depression
You can take certain steps to help reduce your risk of depression. Try to stay aware of your thoughts and moods. Tell your loved ones or members of your healthcare team early if you think there might be a problem. Ask for a visit by a person who has coped with SCI for a while and who is trained as a peer counselor. Make an effort to stay involved with others and in your own life. When you have interests that keep you challenged and fulfilled, it may be easier to find things to stay positive about. Keeping your body strong and healthy may help as well. This allows you to remain active, so you can continue doing things you enjoy and that help you feel good about yourself. If you need ideas for ways to stay active and healthy, talk to your healthcare team. Their role is to support you and help you live well.
Do you have thoughts about suicide?
When you're depressed, you may feel as though life isn't worth living. People with an SCI have a higher risk of suicide. You may even want to give up. If you're thinking of harming yourself, tell your healthcare provider or a loved one right away. You can also contact someone at the National Suicide Prevention Lifeline by calling 1-800-273-TALK (8255), tweeting to @800273TALK, or going to www.facebook.com/800273talk.
Resources to learn more
To learn more about depression and other SCI issues, go to:
National Institutes of Mental Health  www.nimh.nih.gov

United Spinal Association  www.spinalcord.org

Christopher and Dana Reeve Foundation  www.christopherreeve.org

Paralyzed Veterans of America  www.pva.org

National Suicide Prevention Lifeline  www.suicidepreventionlifeline.org