Dental Implants: After Surgery
You just had dental implant surgery. Read on to learn what to expect after surgery and how to recover at home. Be sure to keep all follow-up appointments with your surgeon and dentist. Also, follow all mouth care instructions.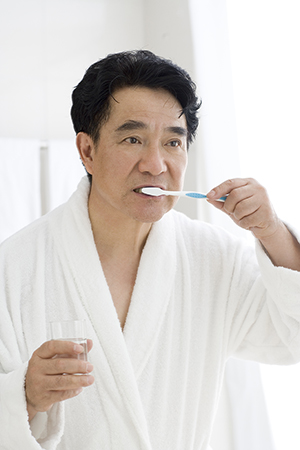 After surgery
When your surgery is over, you may rest awhile. But you can go home as soon as you feel able. Be aware that a certain amount of swelling and minor bleeding is normal. To speed your recovery, be sure to follow your surgeon's instructions. You may be told to:
Drink only clear liquids for the rest of the day.

Take pain medicines and antibiotics.

Avoid putting pressure on your jaw.

Eat soft foods for the first few days as your mouth begins to heal.

Avoid wearing your temporary prosthesis or denture for a certain amount of time.
Taking care of your mouth
Much of the healing process depends on keeping your teeth and gums clean. If you don't take care of your mouth, you may get an infection. This could cause the implants to fail. For best results:
Use a soft toothbrush to clean your teeth and gums after every meal.

Clean the areas near your incisions. But don't brush the incisions themselves.

Use an antimicrobial mouth rinse if prescribed.
Follow-up care
It often takes a few months for jawbone to firmly attach to implants. During that time, you'll have several follow-up visits with your surgeon. This is to see how well your jaw is healing. If you wear a denture, you may also visit your restorative dentist. He or she may put a new lining in your denture for greater comfort.
When to call your surgeon
Call your surgeon right away if you have any of the following:
A large amount of swelling under the tongue, or around the face and neck

Bleeding that won't stop

Pain in the jaws, mouth, or sinuses that isn't relieved by prescribed medicine

A fever over 100.4ºF (38ºC)

Numbness that does not go away after the anesthesia wears off