Dental Care for Babies
A healthy mouth starts early. Even before your baby has teeth, it's important to start a routine of oral care for your child. Once teeth start to appear at around 6 months, you'll need to add to the routine. Decay of baby teeth can cause long-lasting problems.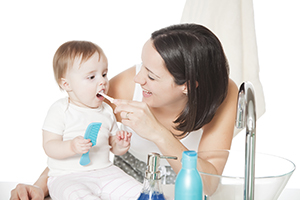 Why baby's oral care matters
Food and beverages mix with bacteria to form a sticky substance on teeth called plaque. Bacteria in the plaque make acid that eats away the tooth's hard coating (enamel). This causes tooth decay. Good oral care keeps plaque from building up on the teeth and causing decay.
Why is it important to keep baby teeth healthy?
Baby teeth hold the spaces for adult teeth. If a baby tooth decays or is removed too early, the space that it holds for an adult tooth may close. Your child may need orthodontic treatment later on.

An infected baby tooth can cause the adult tooth below it to develop poorly. This can cause stains, pits, and a weak adult tooth.

Baby teeth are important in speech development. They're also important in helping your child chew food properly and have good nutrition.
Preventing tooth decay
Birth to 6 months:
Clean your baby's mouth and gums after feedings and at bedtime. Use water and a thin cloth or gauze, or a soft infant toothbrush.

Talk with your child's healthcare provider about fluoride. Fluoride helps prevent cavities. Many cities have fluoride added to the water supply. If your area does not, your baby may need fluoride supplements.
6 to 12 months:
A child's first teeth appear at around 6 months of age. Take your baby to a pediatric dentist between now and your child's first birthday.

Brush teeth after each feeding and at bedtime with a small, soft-bristled brush and fluoride toothpaste. The amount of toothpaste should be no more than the size of a grain of rice.

Ask your dentist about fluoride varnish, which can be applied to the teeth every 3 to 6 months.

Floss your child's teeth every day. This removes bacteria and plaque from between the teeth and under the gums.

Don't put your baby to bed with a bottle of milk, formula, or juice. This can cause tooth decay.

Transition your child from bottles to cups by his or her first birthday.
When to call the dentist
Call your child's dentist if:
Baby teeth are crooked or fail to come in

You notice brown or black spots on your baby's teeth

A tooth is knocked out