Correcting Presbyopia: Contact Lenses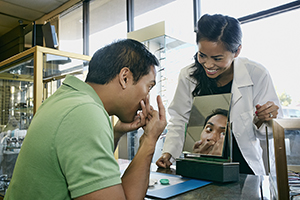 Contact lenses can correct presbyopia. They focus the image back onto the retina. This way, you can see an object clearly.
Contact lenses
There are two kinds of contact lenses that correct presbyopia. If you currently wear contact lenses, you can also use reading glasses with your contacts.
Monovision contact lenses correct one eye for close vision and one eye for far vision. This means one contact lens helps you read and see things that are near. The other contact lens helps you see things that are at a distance.
Multifocal contact lenses have magnifying power. Some alternate between near and far vision. Others gradually change from near to far vision. You do not notice a change from one power to the next. Talk with your eye healthcare provider about which kind of multifocal lens is best for you.