Chronic Lung Disease: My Travel Checklist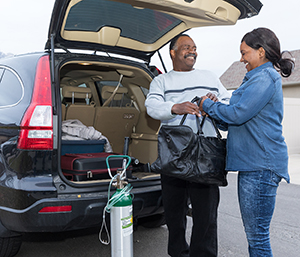 Chronic lung disease shouldn't stop you from traveling, visiting family and friends, and enjoying yourself—even if you use oxygen. You just need to be prepared. Changes in altitude and climate can affect breathing. This may require changes to your treatment, so talk to your healthcare provider about your plans.
Before traveling
Be prepared before taking a trip: 
Get your prescriptions filled. Bring enough medicine for your entire trip.

Get copies of your prescriptions. Ask your healthcare provider if you might need prescriptions for any other medicines while traveling.

Bring a list of your medicines.

Ask your healthcare provider what to do in case of infection. Your healthcare provider may prescribe emergency medicines just in case.

Call your insurance company. Make sure you'll have coverage where you're going.

Get a portable nebulizer (if needed).

If traveling with oxygen, plan ahead:

Call your healthcare provider to get copies of your oxygen prescription.

You may need a letter from your provider stating that you must use oxygen.

You may need to arrange for oxygen to be delivered to your destination. Before you travel, call a medical supply company in the area where you will be staying to make sure it is delivered before your arrival.

Call the airline, bus, boat, or train company you will be traveling on to find out the requirements for traveling with oxygen.

Give yourself several weeks to make these arrangements.
While traveling
Tips to make traveling easier: 
Wear a medical ID bracelet. This should list your medical conditions and any medicines you're allergic to.

Use a hand sanitizer often. This helps kill germs and prevent infection.

Keep your medicines in your carry-on bags. This way you'll have them if you get separated from your checked luggage.

Use your rescue inhaler before you get up to move around (if one has been prescribed). For example, use it before getting off the plane.

Stretch your arms and legs if you're sitting for long periods of time. This helps keep your blood moving. Try using your ankles and feet to spell out each letter of the alphabet.