Being a Healthcare Proxy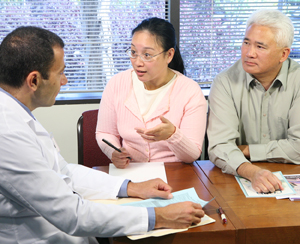 A healthcare proxy represents another person when that person can't speak for himself or herself. The name of this role varies by state. It may be called a Durable Medical Power of Attorney or Durable Power of Attorney for Healthcare. It may be called an agent, surrogate, or advocate. Or it may be called a representative or decision maker. It is an official duty that is identified by a legal document. The document also varies by state. The person must name you as his or her proxy on the document.
What it means to be a healthcare proxy
Your role as healthcare proxy begins when the person can't make medical decisions. This is known as loss of capacity for medical decision-making. This assessment can only be made by a licensed physician. You then make the decisions as needed. You do this by carrying out the person's wishes as noted in his or her advance care planning documents. These documents declare what kind of treatment the person wishes to have or not have. You may need to put aside your own values and opinions to carry out the person's wishes. This may include refusing or stopping life-sustaining treatments.
Carrying out your role
Your duties depend on what the person's advance care planning documents say. Your duties may also depend on state law. In general:
Before accepting a role as a proxy, talk with the person. Be sure you know his or her wishes. Ask questions. This will help you be his or her voice if and when it is needed.

Be sure that the person's healthcare team knows that you are his or her proxy. Carry a copy of the document and proof of your identification.

Make sure the healthcare team has a copy of the person's advance care planning documents.

Talk to the healthcare team and ask questions as often as you need. Stay informed about the person's condition.

Ask for any help you need to understand the medical situation. Ask about the person's condition and prognosis. Ask about risks and benefits of tests and treatments. Find out all the facts and options.

Speak on the person's behalf with the healthcare team when needed.

Talk with family members and keep them informed.

Know your rights. You have the right to ask for information. You can ask for consultations and second opinions. You have the right to request or refuse treatment for the person. You may be able to review his or her medical chart. You can authorize the person's transfer to another facility. You can also request a new healthcare provider for him or her. If you are not sure what your rights are at any time, ask a legal advisor.
When it's time to make decisions
If the person's wishes are clear in the advance care plan documents, ask for them to be carried out as noted. If they are not clear, talk with the healthcare team. Listen to the team's recommendations. Talk with a spiritual advisor or counselor. It may be hard for you to make a decision at times. You may feel sad or upset about a decision. Being a healthcare proxy is not an easy role. But it is an important one. Remember that the person trusts you to carry out his or her wishes.
MOLST or POLST (medical or physician orders for life-sustaining treatment, depending on the state of residence)
A MOLST or POLST documents the person's wishes at the end of life. It is not tied to a certain healthcare provider or facility. It is different than a living will. A MOLST or POLST is an order written according to state regulations by an advanced healthcare professional. To complete a MOLST or POLST, the person must express his or her wishes to an advanced healthcare professional. If the person can't make his or her own decisions, then this is done by the person's healthcare proxy.
If you need help
Ask the healthcare team if you have trouble with a decision. The health care team will want to help you.

You may need help in resolving family conflicts. Ask the hospital social worker, ethics consultant, or a spiritual advisor for help.

If you are having trouble talking with the healthcare team, talk to the hospital ombudsman or ethics committee.