Be Involved in Your Healthcare: When You're Having Surgery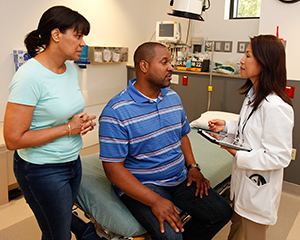 Are you scheduled to have surgery? It's normal to feel worried or even a little scared. Know that your surgeon and other healthcare providers will do all they can to take good care of you. And there's much you can do to help your healthcare team keep you safe. Being involved means speaking up, asking questions, and understanding your role.
You have a right to speak up!
Do you understand your health problem? Do you know what will be done during surgery? Is it clear what you need to do to prepare? Do you know how to take care of yourself afterward? Don't be shy about asking questions. You have a right to know what will happen to you. Knowing this can give you peace of mind. It can also help make sure you get the best care possible. So don't hesitate to speak up!
Having an advocate can help with this. This is a family member or friend who comes with you to healthcare visits. He or she listens to what healthcare providers tell you, asks questions, and helps make sure that things go smoothly. Ask someone you trust to be your advocate. If you don't have a family member or friend to serve this role and you want help, tell the healthcare providers.
Know how to prepare for surgery
To help you get ready for your surgery, do the following:
Write down any questions you have about the procedure. Then, ask your healthcare provider for the answers. For instance:

Confirm what the surgery is called and what it's for.

List out all medicines, supplements, and herbs you take. Ask if you should stop taking any of them before your procedure. Be sure to include anything you have been prescribed, as well as medicines, herbs, and supplements you buy over the counter.

Ask whether you need special supplies or equipment to help with your recovery. This includes things like crutches or a walker.

Follow any directions you are given for not eating or drinking before surgery.

Bring your advocate. He or she should take you to and from the healthcare facility. If possible, he or she should stay during your procedure.
Before surgery: Continue to ask questions
At the healthcare facility, be sure to check the following:
Your informed consent form. You'll be given this form to sign. It will tell you about the procedure you are scheduled for. It will outline the risks of the procedure. Read it carefully before you sign it. Ask questions if there is something you don't understand. And double-check the details on the form. Be sure that your personal information, the type of surgery you're having, and the exact site of surgery on your body are correct. Your signature on this form confirms that all of your questions about the surgery have been answered. If you have questions, ask them before signing the form.

Your patient-identity bracelet. Make sure the information on this bracelet is correct. Have anyone who gives you medicine or treatment check this bracelet first.

The surgical location. Your surgeon will likely mark the area of your body where the surgery will take place. This helps make sure that the correct body part is operated on. If the mark is made while you are awake, confirm that the right body part is marked. If you are not awake when the mark is made, have your advocate confirm the location.
Ask questions to check that steps are being taken to preserve your safety. Feel free to make sure:
Each of your healthcare providers knows who you are and why you're there. Don't be afraid to introduce yourself. You can also mention what procedure you're having.

Information has been passed on. Check that your healthcare providers know about all medicines you're taking. This includes prescription and over-the-counter medicines, as well as herbs and supplements. Mention if you have an allergy to any medicines or things like latex, iodine, or adhesive. And confirm that they know your medical history and the results of any tests you've had.

Possible problems are avoided. For instance, if someone is prepping your leg for surgery and you're having an operation on your arm, there could be a problem. Anytime something doesn't seem right, speak up!

Good handwashing methods are being used. There are many germs in healthcare facilities. Germs can cause infection. Handwashing is one of the best ways to keep germs from spreading. Check that healthcare providers either wash their hands or use alcohol-based hand gels before treating you. Don't be afraid to ask healthcare providers to clean their hands. And if you are admitted, wash your hands often. Be sure your family and friends wash their hands when visiting you.
Know what to do after surgery
When your surgery is done, you'll recover in the healthcare facility or be released to go home. Help make sure your recovery goes well. Be sure you know:
When to call your healthcare provider. For instance, you should call if you have signs of infection, such as fever. Find out what other symptoms should prompt a call to your healthcare provider.

How to take your medicines. Ask about any medicines prescribed for you. Find out what each medicine is called, what it's for, and how often to take it. Know what side effects to expect. Also ask when you can start taking any medicines you stopped before surgery.

How to manage pain. If you have pain, talk to your healthcare provider. Learn what you can do to manage it.

How to take care of your surgery site. If you have a bandage, ask how to care for it and when you can remove it. Ask when you can take a shower or bathe again.

What follow-up care you need. Ask when you should have a follow-up visit with your surgeon or other healthcare provider. Keep all of your follow-up appointments. Find out if you'll need physical therapy or other care after surgery.

When you can return to normal activities. Find out when you can safely return to driving, work, and exercise.