Base for a Variation on Hummus
(Gluten-Free)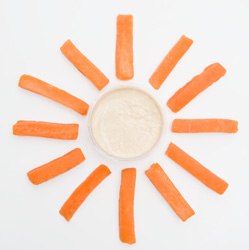 These ingredients are in the right proportions for one batch of spread. For a gift jar, keep adding a round of all four ingredients, in these amounts, until you fill the jar.
Ingredients
1 tablespoon parsley

1 tablespoon dried lemon rind (looks granulated)

1 teaspoon garlic powder

1/4 teaspoon ground black pepper
Attach a note explaining how to make the spread. Your recipient will need to add these ingredients:
1 19-ounce can chickpeas, drained and rinsed

1/2 cup diced tomatoes, drained (or 1 large tomato, peeled, seeded, and chopped)

2 tablespoons fat-free sour cream
Directions
Combine chickpeas, tomatoes, sour cream, and three tablespoons of base mix in a blender or food processor. Blend to desired consistency to spread on crackers or pita triangles. Add more tomatoes or sour cream if necessary. 
Makes one batch
Each 1/2-cup serving of prepared spread has about 74 calories, 3 g protein, less than 1 g fat, 0 mg cholesterol, 14 g carbohydrates, 3 g fiber, and 180 mg sodium.
To make this recipe gluten free, use only spices or condiments that are gluten free. Read food labels carefully and contact the company if you have any questions.