About Your Neck
The neck is a complex part of the human anatomy. Many parts of the neck must function properly to have the flexibility and comfort to move in 6 directions. Learning about the parts of the neck and the purpose of each can shed light on neck problems and what causes them.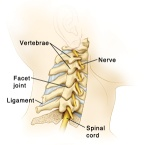 The vertebrae (bones) in the neck form the top part of the spinal column (backbone) and protect the spinal cord. The spinal cord is a bundle of nerves that carries messages between the brain and the rest of the body.
The neck consists of joints, ligaments, nerves, tendons, and muscles. The neck muscles move in tandem with other muscles in the upper body, including the back, shoulders, and chest. Maintaining strength and flexibility in these muscles helps to prevents stiffness and weakness in the neck.
The structure of the neck includes:
Seven bones, called the cervical vertebrae, located at the top of the spine (backbone)

Disks, which are spongy padding between the vertebrae. These absorb shock from daily movement, exercise, and accidents.

Facets, or the joints between the vertebrae. Each vertebra has 2 sets of facet joints — 1 pair facing upward, and 1 pair facing downward. Facet joints occur on the back (posterior) side of the spine.

Ligaments, which connect the vertebrae to each other and stabilize the cervical spine

Muscles, which support the spine and provide movement of the head

Foramina, which are spaces between vertebrae that provide an opening for the nerves leaving the spine and going out to the various parts of the body