Customized Solutions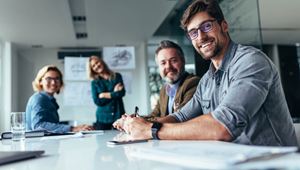 BayCare offers customized solutions that include on-site programs and events to employers and their employees throughout the Tampa Bay area. Our experienced wellness team will provide a customized and engaging health program right at your place of business, making it easy for your employees to get access to our many wellness tools and resources. From immunizations and seminars to emergency training and preventive screenings, you can choose to bring as many or as few of our comprehensive services to your workplace as you wish. Our wellness team will work with you to determine which programs best fit your budget, the size of your company and the unique health needs of your employees.
No matter where your business is located in the Tampa Bay area, we bring our innovative wellness program to you. We serve Hillsborough, Pasco, Pinellas and Polk counties.
BayCare offers the following:
Customized and innovated solutions for your workforce
Concierge style service
Packaged services to fit your company's unique needs.
Multiple channels to deliver services (on-site, tele-health, urgent care locations, etc.)
Simple solutions to reduce elevated health risks
Provide reporting metrics
Schedule a FREE Consultation!