Expedition Survivor Returns to ZooTampa
Cooler temperatures will be just one great feature as BayCare returns to ZooTampa February 1, 2020 for another annual Cancer Survivor Event!
Each year, BayCare hosts an event to recognize all cancer survivors in our community and honor those we've lost. Wherever you fit in that journey – a survivor, a patient, a caregiver, a family member, a supportive friend – this special day is for you.
All cancer survivors and those touched by cancer are invited to join us for an action-packed Zoo Tampa experience with fun activities for the whole family. Each cancer survivor may invite up to five family members or friends to join them for this special celebration.
This year, pre-registered BayCare guests can enter the park during regular operating hours and stay all day – 9:30am - 8pm. The park will close at 3pm and reopen at 4pm exclusively to BayCare guests to enjoy featured entertainers, kids' activities and more. Come all day or come at 4pm – the choice is yours. See Registration and Cost section below for more details.
BayCare is proud to host the annual Cancer Survivor Event to honor and recognize all cancer survivors in our community. You're invited to share this information with others who have won their battle over cancer. BayCare is sensitive to the feelings of all cancer patients, and the families and loved ones of those who have unfortunately passed away due to cancer. The invitations and promotional tactics used for this event are intended to be general. Please share with cancer survivors and those touched by cancer who you think would benefit from attending this event.
A picture is worth 1,000 words!
Our BayCare Selfie Stations were quite popular last year. If you haven't already done so, you can access our 2019 online gallery and see your photos online. The password is: BayCare2019. As a trade, we'd love to see your photos too. If you share photos on social media, please use this hashtag so we can see your smiling faces! #BayCareCancerSurvivors
Expedition Survivor at ZooTampa is a special event hosted by BayCare to recognize all cancer survivors in our community and honor those we've lost.
2020 Expedition Survivor Event Highlights
In addition to enjoying exclusive open access to all zoo exhibits and rides,* guests will receive access to special activities and experiences:
Fun activities for the kids
DJs and live music
Photo stations throughout the park
Special prize drawing opportunities
A commemorative Expedition Survivor gift for all guests
A memorable Cancer Tribute Ceremony to honor survivors and those we've lost to cancer
*Some rides and attractions will begin closing at dusk and some animals have strict schedules and early bedtimes. In addition, animal feeding opportunities will be available at regular price all day long, including our exclusive 4-8pm event hours.
Featured Events and Shows
The Expedition Survivor 2020 event will feature several animal encounters and shows, including the popular Birds of Prey show and chats featuring elephants, orangutans and penguins.
And have you ever seen a Landshark? Well you are in luck! The Landsharks will be playing in the Key West section of Zoo Tampa starting at 4pm. A well-known Jimmy Buffett tribute band, The Landsharks have appeared with Jimmy Buffett in Key West, and also at Margaritaville. They've opened up for The Beach Boys in concert, performed at The Super Bowl, played over 100 shows in Disney and Universal Studios, and played for American Troops overseas many times.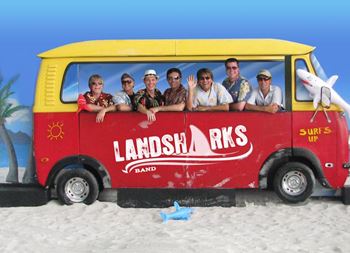 Registration and Cost
Attendance is limited. We recommend all attendees pre-register for the event using the registration button below. Walk-ins the day of the event will be granted admission on a first come, first served basis unless we reach attendance capacity prior to event day.
Registration will remain open through Feb. 1 until we reach attendance capacity. Walk-ups on event day will be accepted on a first come, first served basis until we reach attendance capacity.
The total cost per guest is $12.24 (includes $2.24 registration fee and $10 value for food vouchers at the zoo on event day). BayCare guests can access the park during regular zoo hours on event day, beginning at 9:30am, and are invited to stay for exclusive extended hours and a special cancer survivor tribute ceremony later in the evening. Although the zoo will close to the public at 3pm, BayCare guests who are already in the zoo may remain and continue enjoying the park. The zoo will reopen at 4pm for BayCare guests who have pre-registered, as well as any walk-ins that we can accommodate up to attendance capacity. All registered (paid) BayCare guests may stay in the park until closing time at 8pm, regardless of arrival time.
After you register, you'll receive event tickets with a unique barcode. You can print your tickets and bring them with you to the event, save your tickets to your mobile device for access during check-in, or download the Eventbrite app and present the barcode from your account page. For expedited check-in at the event, be sure to have your tickets accessible for admission into ZooTampa and the Expedition Survivor event.
Food Vouchers
Once inside the zoo, all registered guests will receive food vouchers worth $10 of credit toward food and non-alcoholic beverages purchases inside the park. Children under 3 must also be registered guests in order to receive food vouchers. Tax will be added to the food and drink price upon purchase. Guests may enjoy additional food and refreshments throughout the park beyond the $10 credit at their own expense.
Parking & Ride Sharing
Parking for the event is free. However, to honor BayCare's commitment to "Go Green," we strongly encourage carpooling in groups of four or more to ease parking congestion. Follow all signs for event parking. A guest drop-off area will be available at the front of the park for handicapped guests who require additional assistance.
We also suggest using ride-sharing services like Uber and Lyft for easy park access. There will be a special ride-sharing drop off point at the front of the zoo for drop off and pick up on event day from 4pm-8pm during the exclusive BayCare event hours.
If you choose to carpool or rideshare for the exclusive BayCare hours of 4pm-8pm, be sure to mark the appropriate option during registration that confirms your transportation plans.
If you pledge to "Go Green" and carpool or rideshare, we will thank you by entering your name into a special chance prize drawing that will take place during our ceremony around 7:30pm on event day. You must be present to win.*
Only guests who register online prior to Feb. 1 will be eligible for the prize drawing. Walk-up guests will not be eligible, as this is a "pre-pledge" that must be made prior to traveling to the event.
Already registered?
Here are some tips for the day of the event:
Admission: If you pre-registered (recommended), come any time throughout the day and don't forget your ticket.
On-site ticket purchase ($12.24) on event day will be limited to a first come, first served entry until we reach event capacity.
Security: The zoo uses security wand scanners and checks all bags before you can enter the zoo. For express entry, leave purses and bags at home.
FAQs: Visit our FAQ area for a list of frequently asked questions.
Be sure to follow BayCare on Facebook for updates and event information.