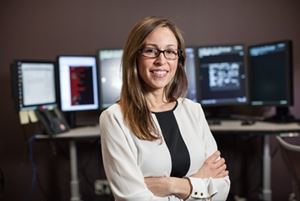 At BayCare, we are committed to protecting your health, so we provide patients with a personal care team that includes physicians and health care professionals who specialize in diagnosing and caring for women with breast cancer.
Each patient comes to us with different needs, so our care team stands ready to help in the most appropriate and efficient manner possible, working hard to alleviate patient discomfort and concerns.
We can refer you to a member of our breast health team if you require breast health care.
Breast Surgical Oncologist
Depending on individual circumstances, you may see a breast surgical oncologist who specializes in breast cancer surgery.
Certified Mammography Technologists
During both screening and diagnostic mammograms, BayCare's certified technologists can ensure clear, accurate images for your doctors to review. While helping you monitor your health, they also keep your comfort and privacy in mind.
Medical Oncologists
Medical Oncologists have special training in diagnosing and treating cancer in adults using chemotherapy, hormonal therapy, biological therapy and targeted therapy. A medical oncologist often is the main health care provider for someone who has cancer. A medical oncologist also gives supportive care and may coordinate treatment given by other specialists.
Nurses
Our highly qualified and compassionate nurses will assist patients in diagnostic and treatment procedures, and often serve as a very personal resource for breast cancer patients.
Radiation Oncologists and Therapists
As part of your breast cancer treatment, you may see a radiation oncologist or therapist, who both specialize in providing radiation treatment specific to breast cancer patients.
Radiologists
Our board-certified radiologists, who are specialize in breast care, will review your images and discuss any areas of concern with you and other doctors on your team. They may also perform image-guided biopsies for suspicious areas.
Breast Surgeon
Some breast cancer patients also see a breast surgeon who specializes in cancer surgery not specific to breast cancer.