Choose Your Own Path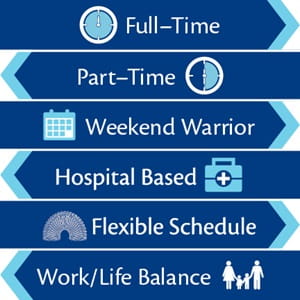 At BayCare Behavioral Health, choose the work options that meet your needs.
BayCare Behavioral health understands the importance of building a balanced and healthy life. Not just for your patients, but also for you.
Our flexible work options let you choose: expand practice options, launch a new career path, full-time employment, weekend warrior, part-time/affiliated, hospital-based, and more.
Benefits include:
Quality-based compensation
Work/life balance
Diverse community
Opportunities for growth
Flexible schedule
Retirement savings and planning
Professional expenses
Learn more about the benefits of working for BayCare Behavioral Health directly from our physicians:
Dr. Ed Jackson discusses flexible schedules and the team atmosphere
Listen to Dr. Ronald Taddeo talk about the resources and support
Medical Director Dr. Nick Dewan provides an overview of BayCare Behavioral Health opportunities
Contact Us