St. Joseph's Hospital Achieves National Accreditation from the Metabolic and Bariatric Surgery Accreditation and Quality Improvement Program
October 18, 2019
Tampa hospital meets all criteria as a Comprehensive Center according to national quality standards established to deliver safe, high quality bariatric patient care.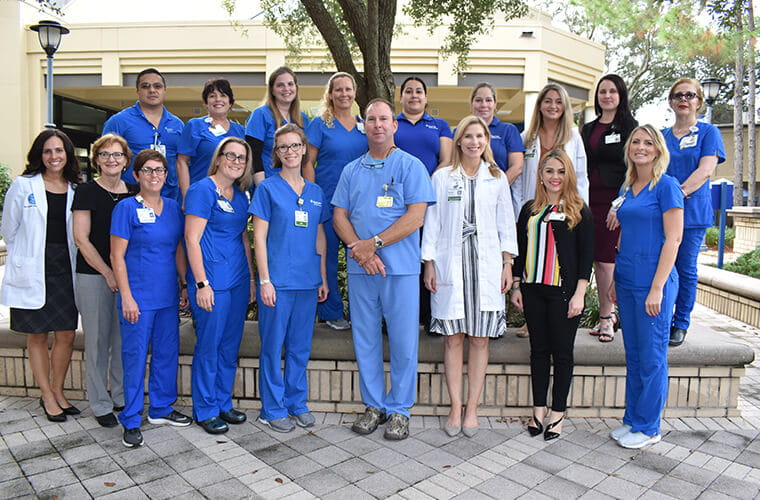 TAMPA, Fla., (Oct. 18, 2019) – St. Joseph's Hospital's bariatric surgical center has received accreditation as a Comprehensive Center under the Metabolic and Bariatric Surgery Accreditation and Quality Improvement Program (MBSAQIP®), a joint program of the American College of Surgeons (ACS) and the American Society for Metabolic and Bariatric Surgery (ASMBS).

The MBSAQIP Standards, outlined in the Resources for Optimal Care of the Metabolic and Bariatric Surgery Patient 2016 ensure that bariatric surgical patients receive a multidisciplinary program, not just a surgical procedure, which improves patient outcomes and long-term success. The accredited center offers preoperative and postoperative care designed specifically for their severely obese patients.

"The strength of this program is due to a wonderful multidisciplinary team," according to St. Joseph's Hospital President Kimberly Guy.

"Metabolic and bariatric surgery is the most rewarding aspect of my practice," said David Echevarria, M.D, FACS, director of SJH's Metabolic and Bariatric Surgery program. "St. Joseph's Hospital's commitment to quality care begins with appropriately trained staff and the leadership from surgeons who participate in meetings throughout the year to review its outcomes. They seek continuous improvement to enhance the structure, process and outcomes of the center."

In the United States, around 15.5 million people suffer from severe obesity, according to the National Institutes of Health, and the numbers continue to increase. Obesity increases the risks of morbidity and mortality because of the diseases and conditions that are commonly associated with it, such as type II diabetes, hypertension, and cardiovascular disease, among other health risks. Metabolic and bariatric surgical procedures have proven to be effective in the reduction of comorbid conditions related to severe obesity.

Other MBSAQIP accredited BayCare bariatric surgical centers include Mease Dunedin Hospital, Dunedin, FL, St. Anthony's Hospital, St. Petersburg, FL, and South Florida Baptist Hospital, Plant City, FL.

About St. Joseph's Hospital
St. Joseph's Hospital, part of the BayCare Health System, is known for advanced medical technology and compassionate care. Its Centers of Excellence include the Heart Institute, Cancer Institute, Stroke and Neuroscience Program, Robotic Surgery Program and Emergency/Trauma Departments, which treats more patients than any other hospital in the Tampa Bay region. More than 70 specialties are represented among the medical staff, from internal medicine to cardiology, neurology to surgery. The hospital was founded in 1934 by the Franciscan Sisters of Allegany.

About BayCare
BayCare is a leading not-for-profit health care system that connects individuals and families to a wide range of services at 15 hospitals and hundreds of other convenient locations throughout the Tampa Bay and west central Florida regions. Inpatient and outpatient services include acute care, primary care, imaging, laboratory, behavioral health, home care, and wellness. Our mission is to improve the health of all we serve through community-owned health care services that set the standard for high-quality, compassionate care. For more information, visit www.BayCare.org.