Hospital Leadership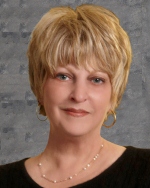 Paula McGuiness is the President of St. Joseph's Hospital-North, a new all digital hospital in Northwest Hillsborough County. In addition she has administrative responsibility for Surgical Services at St. Joseph's Hospital, a physician joint ventured ambulatory surgery center and multiple diagnostic imaging centers in Tampa.
McGuiness began her career at St. Joseph's Hospital in 1972 as a staff nurse, and by 1978, she had assumed responsibility for Surgical Services as director, and in 1983 developed and opened the Open Heart program. In 1985, she began the planning, design and development of the Same Day Surgery Center, a physician limited partnership, that opened in 1988. Responsibility for the Diagnostic Centers was added in 2000.
McGuiness has a bachelor's degree in nursing and is completing her master's degree in health administration.