Robotic Surgery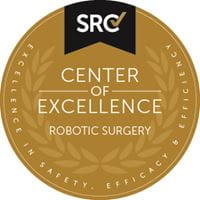 Bartow Regional Medical Center is proud to offer patients the latest technology and advanced treatment options. Robotic surgery provides a safe, minimally invasive approach to surgery that allows surgeons to perform complex surgical procedures through small incisions.
Bartow Regional Medical Center is an accredited Center of Excellence by the Surgical Review Corporation for practicing the gold standard of evidence-based surgical care. This accreditation distinguishes Bartow Regional from other hospitals by providing the highest quality of care to its patients and meeting nationally recognized standards.
Benefits of Robotic Surgery
Less pain
Less scarring
Faster recovery
Minimal blood loss
Fewer complications
Robotic surgical procedures offer many benefits compared to traditional or laparoscopic procedures. We always have your best outcome in mind and will choose the surgical approach that best suits your needs.
Experience and Expertise at Bartow Regional Medical Center
With seven surgeons treating a variety of conditions and with the ability to perform six different robotic/laparoscopic procedures, you'll receive the finest care at Bartow Regional Medical Center. Our robotic surgeons are highly experienced and receive extensive training to perform even the most delicate procedures. Our surgeons are experts in performing general and gynecologic robotic procedures using the da Vinci® Surgical System, one of the most sophisticated surgical systems available.
About the Robot
The da Vinci Surgical System provides an alternative to both traditional open surgery and conventional minimally invasive surgery. During a robotic procedure, your surgeon is at the controls of a state-of-the-art robotic platform. The robotic surgery system enables surgeons to operate though a few small incisions.

The equipment used for robotic surgery is designed especially to enable the surgeon to be as precise as possible. Equipment in the operating room includes:
Patient cart with four interactive robotic arms: Your surgeon uses these robotic arms to control the procedure. The robotic arms hold the surgical instruments and a high definition camera. Your surgeon will make small incisions and insert the instruments and camera into the operating site.
Surgeon's console: This is where your surgeon sits and directs the surgery. The console is in the same room as the operating table, but located a few feet away. The console contains a screen, which shows the high-resolution, 3-D images of the operating site. Although your surgeon isn't standing over you, he or she can see the operating site even better at the console, due to the high quality of the images.
EndoWrist® instruments: Your surgeon operates the instruments by using his or her hands and fingers. When your surgeon moves, the instruments respond precisely to those movements, in real-time. EndoWrist instruments work like a human arm, with elbow- and wrist-like movements, but they have a greater range of motion than the human wrist.
For a physician referral, call (863) 280-6075.


Robotic Surgeons by Specialty