BayCare has Partnered with Emmi Solutions™ to Help Keep Patients Well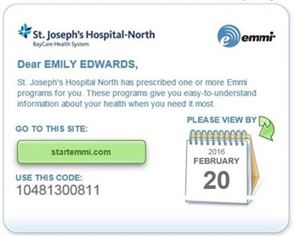 BayCare is using a new tool to help patients take control of their health. It's called Emmi. If you and your family members are using BayCare doctors and services, you'll hear about it too!
What is Emmi?
Emmi is a web-based program that takes complex medical information and makes it simple and easy to understand. These online articles, programs and videos are part of your care, and they can help you prepare for an upcoming procedure, manage a chronic condition or just stay healthier. You can watch them anytime, using a computer, smartphone or tablet connected to the internet.
Emmi programs answer frequently asked questions. If you have questions you think aren't important, forgot to ask, or were too embarrassed to ask, Emmi can help. If you forgot details after you left the doctor's office, Emmi can help. You can view Emmi content in the comfort of your own home or anywhere that has internet access. View the programs as many times as you need, pause and replay sections, and take notes. Each program takes about 20 minutes to watch and you can share them with your family and friends who may be involved in your care.
How Does Emmi Work?
You may receive an email message from "MyEmmi Support" with your doctor's request for you to watch an Emmi program. The email will contain a link and a login code to use in accessing your Emmi programs.
If you don't have an email address, you will receive a phone call with instructions on how to access the Emmi programs. Patients receiving Emmi programs from their provider will receive an 11-digit access code to activate their online program. To view the programs, go to startemmi.com and enter the access code – it's that easy.
Why Does BayCare Use Emmi?
Visiting your doctor is just part of staying healthy. What you do between visits is equally important. The information provided in Emmi programs will help you prepare for an upcoming procedure and can help you manage a chronic condition.
Feeling and living your best takes a team, and you play an important role. So watch, learn and know you are doing good things for your health.
Additional Resources for Patients