Investing in Our Team Members
BayCare encourages its team members to dream of a better future for themselves and their families, and devotes substantial resources to helping them achieve those dreams, no matter where they start in the health system.
BayCare's dedication to education is reflected in the size of its training budget – approximately $55 million a year. During 2017, the health system paid $6.6 million in tuition reimbursements alone to 3,500 team members attending 124 educational institutions.
The health system has received national and international attention for its education programs. FORTUNE magazine recognized BayCare as a 2017 Great Place to Work®. And Training magazine named BayCare to its prestigious Training Top 125, which recognizes companies around the globe that are "unsurpassed in harnessing human capital."
In some cases, BayCare develops educational programs to get ahead of a predicted labor shortage. When BayCare realized there was no program in the community to train new medical laboratory technologists, it partnered with Hillsborough Community College and Erwin Technical College to create one, which graduated its first class in 2017.
BayCare's associate degree nursing program in partnership with St. Petersburg College (SPC) also helps the health system grow some of its own nurses in the face of a national nursing shortage. Classes are held in BayCare's Clearwater headquarters, which essentially is a satellite campus of SPC for nursing students.
Once nursing students graduate from the BayCare/SPC program or nursing programs in most Tampa Bay-area colleges, they are very likely to do their required clinical rotations – an essential part of their training – in BayCare hospitals. Almost 5,000 were getting their clinical training in BayCare facilities in 2017, with BayCare nurses as their preceptors.
BayCare's clinical education programs also include a variety of internships for registered nurses who want to get advanced skills in a nursing specialty. Almost 300 were participating in internships in 2017.
While many of the educational programs are clinical in nature, BayCare also provides a six-month career development class for entry-level BayCare team members to prepare them for promotions or college. Students learn life management skills, writing and grammar, basic math, medical terminology, and patient satisfaction and safety. They take the class on their own time while also working their regular jobs, and graduates often qualify for increases in pay or responsibility.
"It's exciting," said Will Davis Jr., education manager for BayCare. "It's raising their level of education. We are enabling them to get a more sustainable rate of pay."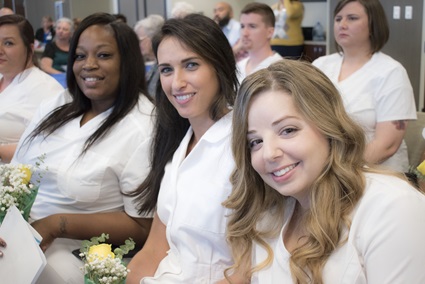 The Opportunities Are Here
In 1997, Entela Ademi was 27 and a middle school math teacher in Albania when she and her husband decided to immigrate to America. She recalls her arrival in the United States as exciting, but difficult because she didn't speak English.
While she took English classes, Entela needed a job where she would seldom have to speak to anyone. The former math teacher ended up cleaning rooms at BayCare's Morton Plant Hospital in Clearwater. She stuck with it for a year.
Then, she saw a flyer in a hospital restroom inviting applicants for the job of patient care technician, so she signed up and was trained for the job in classes provided by BayCare.
Two years later, she read about Earn As You Learn (EAYL), a BayCare program where successful applicants could become licensed practical nurses, taking classes four days a week and working at their regular BayCare jobs the other days. BayCare would pay for the classes and books. Entela jumped at the opportunity and was in the first EAYL class. She spent the next five years as an LPN at Morton Plant.
Today, Entela is a registered nurse with a bachelor's degree in nursing and a special nursing certification in progressive care. She is a charge nurse at Morton Plant and a preceptor who helps train new nurses. BayCare was her partner on the whole journey.
Entela said that when people ask her about her background, "I tell them my short story, about how I was able to advance my career through BayCare. The opportunities are here for anyone who wants to learn."